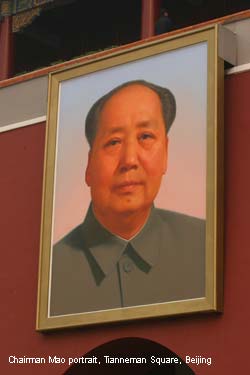 I've just got back from a holiday in Beijing and Hong Kong. What an amazing experience.
I have to say a visit to Beijing did fill me with a certain dread. The spectre of Tianneman Square still lingers, and the offhand treatment at the Chinese embassy (arranging visas) certainly made me think it wouldn't be a pleasant experience – more of a brave adventure. How wrong I was.
I'm ashamed to say Sugar and I only knew two phrases – one for 'hello' and one for 'thankyou'. The remarkable thing was that in the whole time away that was all we needed. Virtually everyone we met spoke a little English – at least enough to be able to order food, take a taxi, and go shopping.
The city has 3.9 million cars, and 50,000 are being added each month. Surprising that the majority are European – Volvo's, BMW's, Volkswagen, with the odd American Buick thrown in for good measure.
We spent 7 days in Beijing. At the end of the week I had sampled some of the best food I had ever had in my life. And so cheap. One night as a special treat we dined at a restaurant called Source…down a dark hutong, so off the beaten track that the taxi driver had trouble finding it. A fixed menu in a beautiful courtyard restaurant…attended to by two staff…8 small courses of the most delectable food and tastes – final bill $130 NZ.
In seven days you can just about see all of the main tourist sites. The Great Wall (we went to Sumatai which is the furthest outpost but worth the extra hour it takes to get there), the Forbidden City (you can spend all day there and not see everything), Mao's Mausoleum (yes, we queued with the proletariat and had our 20 seconds viewing of the leader lying beneath his crystal enclosure – he's been dead since 1976 and looks healthier than me!), the Summer Palace (on the outskirts of Beijing where the emperor's retired to take cooler air during the clammy summer), and various markets and shopping precincts recommended by friends.
We stayed 20 minutes walk from Tianneman Square in a small courtyard hotel (Sihe Hotel) which i highly recommend. Very cheap, the staff spoke enough English to look after us, and the free breakfasts (Chinese) had the miraculous power to give me enough energy to get through the day on little else.
Like any really foreign country we came to actually enjoy Starbucks coffee – it was the only taste that vaguely felt like home, and there seemed to be an outlet on every corner, even inside the Forbidden City!
Pollution was incredible, incredibly bad that is – but it didn't smell. The World Health Organisation has a rating (based on what I'm not sure) but their recommendation is nothing over 20. The day we went to the Summer Palace the measure was 253! On the way to the palace the taxi driver pulled over on a four lane highway to let me take a photo of the Beijing Olympic Stadium. The building appears to be made out of a metallic jumble of flat spaghetti. The only problem was it was difficult to see it through the fug of pollution…it merged into the landscape.
Two days later the sky was a brilliant blue. With no wind in the intervening days we wondered how this might have happened. Conspiracy theories abound, involving the powers-that-be seeding the sky to reduce/remove pollution. However it happened we were actually grateful.
I'll post a few memories over the next week or so with pictures attached. It's an incredible place to visit, and I recommend you go sooner rather than later. Capitalism has reared it's ugly head and the safe and friendly environment we encountered is likely to quickly degenerate into an unsafe and greedy New York. Where else in the world (except perhaps Japan) could you walk down a dimly lit alley at 11.30 pm with no fear of being attacked, robbed, or raped.