Revealed today in the SST – the owner of the Stock X Change bar in Christchurch (where Jesse Ryder cut tendons in his hand after pnching out a window) has, on two occasions, given Jesse Ryder a free bar tab – and this is after the event that pushed Ryder into the media spotlight.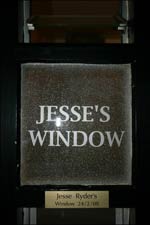 The owner, Anthony Bailey, thinks that Jesse Ryder doesn't have a drinking problem.
…in a staggering admission, Bailey confirmed Ryder was given a "small free bar tab". Asked if he thought this was irresponsible given Ryder's high-profile battle with the bottle, Bailey responded: "It would be if he had a drinking problem, but Jesse doesn't."
Anthony Bailey, given this admission, is probably the sort of irresponsible bar owner that continues to serve intoxicated patrons – cos it's good for business, especially if the patron causing the inevitable problem has a big profile.
Bailey is further capitalising on this in the SXC Bebo page where photos of Jesse Ryder and the toilet (where the window was smashed) feature, along with other celebrations of the over-indulgence of alcohol.
He's a bigger idiot than Ryder. Do you need to pass an intelligence test to get a liquor license? Obviously not.